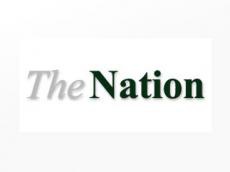 Pakistani "The Nation" magazine has published an article entitled "Ilham Aliyev: We are building a modern country."
The article says: "Floods of refugees as a result of Armenian aggression, collapsed economy, unemployment, hyperinflation, atmosphere of apathy and hopelessness...
This was a picture of Azerbaijan at early 90th of the last century. There were few who could believe in bright future of this country.
The Azerbaijani nation under the leadership of President Ilham Aliyev is witnessing rapid and dynamic development that is comparable with developed countries. A country with less than 10 million population has become a leading power in Transcaucasia. It is undeniable fact that during 10 years of Ilham Aliyev's presidential tenure Azerbaijan achieved remarkable development in all spheres of life.
Ilham Aliyev started his political career in 1995 after election a member of the National Assembly and was later lead Azerbaijani delegation to the Council of Europe. In 2003 and 2008 Ilham Aliyev won presidential elections and was reelected to this post after 09 October, 2013 national elections with overwhelming 85 % majority.
Soon after the signing the seize fire agreement Azerbaijan concentrated all its efforts on development of economy. In 1994 Azerbaijan signed a "Contract of Century" for exploration of hydrocarbon offshore reserves of the Caspian Sea. Ilham Aliyev was a key figure during the negotiations between the Government and Western oil companies. This contract has not only paved the way to the renaissance of the nation, but also cemented sovereignty of the state.
Implementation of Baku-Tbilisi-Kars railway link, will contributed to facilitate transportation of goods and passengers from Central Asia via Azerbaijan to Europe making country a main transport hub of the region.
Over the last decade, Azerbaijan has transformed into a leading regional investor, financing multi-billion projects in different countries of the world. A transparent Oil Fund has been established to collect and manage revenues from energy-related activities and to control a use of these revenues for economic diversification. As a result of development of non-oil sector, only in 2012 it has grown by 10 % reaching 1,750 billion. During these years the first Azerbaijan's satellite "Azerspace-1? was successfully launched into orbit, Trans- Eurasian information corridor was established, electronic government was formed and etc.
The economic growth of Azerbaijan goes accompanied by enormous construction boom, development of the industry, infrastructure, agriculture, tourism and culture.
While noting success on domestic fields one should also stress on the dynamism of external relations of the state. A leader with broad vision, Mr. Ilham Aliyev, carries on a balanced foreign policy, based on the interests of his country. Located on the crossroads of Europe and Asia, Azerbaijan is integrated into the political structures of both continents. Being a member of the Council of Europe and the OSCE, Azerbaijan plays an active role in the OIC and the ECO and in 2011 got a membership in Non-Aligned Movement and a seat of a non-permanent member of UN SC allocated for Eastern Europe. It has also became Europe's main partner in the region.
Ilham Aliyev takes a keen interest in promoting the bilateral relations between Pakistan and Azerbaijan. Today the two nations enjoy close and cordial relations characterized by shared perception on major global and regional issues. Both countries closely cooperate in international forum, support each other on their core issues. The two countries signed number of agreements to provide a framework for bilateral cooperation in all walks of life."

/AzerTAc/