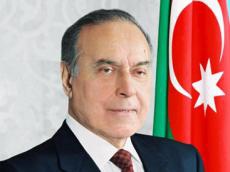 A ceremony to mark the 10th anniversary of national leader Heydar Aliyev`s death was marked in Spain.
The event organized by Evsen Group of Companies and with the support of the Azerbaijan`s Embassy in Madrid, Spain brought together members of the Spanish parliament and government, ambassadors from more than 20 countries, representatives of the Spanish society,
Azerbaijani Diaspora, and students studying in the country.
Attending the ceremony president of Evsen Group of Companies Ali Evsen provided an insight into the life and activities of national leader of Azerbaijan Heydar Aliyev. He noted Azerbaijan has grown into a role model thanks to the successful policy of President Ilham Aliyev.
He went on to say that Heydar Aliyev`s contribution was exceptional to strengthening the state system in the country.
Azerbaijani ambassador to Spain Altay Afandiyev also spoke about the foreign policy conception of the national leader. He noted that Heydar Aliyev made a great contribution to the development of Spain-Azerbaijan relations.
The participants were given the issue of the DIPLOMACIA-Siglo veinte uno magazine devoted to Azerbaijan and 90th jubilee of Heydar Aliyev, as well as brochures narrating on the achievements gained by Azerbaijan over the past decade.
A documentary on the national leader was demonstrated at the event.

/AzerTAc/