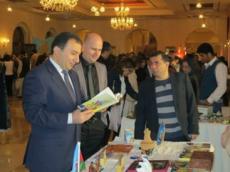 By AzerNews
Azerbaijani Embassy in Pakistan has participated in the Charity Bazaar 2013 in Islamabad.
Azerbaijan`s pavilion showcased national souvenirs, carpets, materials about the history, culture, cuisine, and music.
During the event, Azerbaijani Ambassador to Pakistan Dashgin Shikarov met with Adviser to Pakistani Prime Minister on National Security and Foreign Affairs Sartaj Aziz.
The sides praised development of relations between the two countries in the fields of politics, economy and culture.
Aziz described relations between the two countries as friendly and fraternal.
The bazaar was co-organized by the Pakistan Foreign Office Women`s Association (PFOWA). The Association will assist their children with education, provide financial help to the widows of the Foreign Office staff and extend a helping hand, in cases requiring medical assistance.
The main source of fundraising for the welfare work has been the Charity Shows/ Bazaars that are held annually.
Relations between Azerbaijan and Pakistan which started just 21 years ago have grown up to the level of strategic partnership. Exchange of visits of Azerbaijan and Pakistan Leaders and the other high level delegations played a pivotal role in cementing the links between the States and Nations.
Also, several charity events were organized in Pakistan with the support of Azerbaijan's Heydar Aliyev Foundation .
The Heydar Aliyev Foundation started its activity in Pakistan after the earthquake in 2005, when an initiative was launched to build a new modern school for girls in lieu of the destroyed one in Muzaffarabad. The 500-pupil school was built in a mountainous area by 2007.
The foundation regularly provides the school with all necessary means and pays out monthly scholarships to five deserving students of the school. After complete reconstruction and renovation in 2012, the school was named after the First Lady of Azerbaijan.
In 2012 and 2013, President of foundation Mehriban Aliyeva initiated a series of healthcare, education and humanitarian projects throughout the provinces of Pakistan.