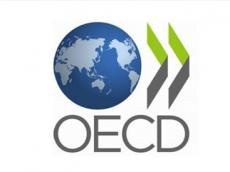 Efforts taken by the Azerbaijani government to combat corruption have been lauded in a report adopted under Istanbul Anti-Corruption Action Plan of Organization for Economic Co-operation and Development (OECD) Anti-Corruption Network for Eastern Europe and Central Asia, which convened in the French capital of Paris on September 23-25.
The report says "Azerbaijan has continued to make progress in fighting corruption".
OECD`s report commends Azerbaijan on making progress in implementing important anti-corruption measures, including New National Anti-Corruption Strategy and Anti-Corruption Action Plan. criminalizing active and passive bribery and building capacity to enforce criminal legislation, strengthening rules for merit-based, competitive employment for civil servants and building government capacity to prevent money-laundering.
The report also hails the National Action Plan on Open Government and National Action Plan on Combating Corruption adopted by President of Azerbaijan Ilham Aliyev`s decree dated September 5, 2012.
The report says the legislation of Azerbaijan meets all international standards, adding all recommendations made before were implemented by the country.
OECD also praises as active participation of State Oil Fund in Extractive Industries Transparency Initiative.
The meeting held in the headquarters of OECD was attended by top management of the organization, representatives of member countries and international organizations, including OSCE, the Council of Europe, and the World Bank.
The Istanbul Anti-corruption Action Plan is a sub-regional peer review program launched in 2003 in the framework of the ACN. It supports anti-corruption reforms through country reviews and continuous monitoring of implementation of recommendations, which promote the UNCAC and other international standards and best practice. This program reviews the legal and institutional frameworks for fighting corruption and makes recommendations and monitors progress in implementing the recommendations.
Transparency International`s 2013 Global Corruption Barometer has once again confirmed Azerbaijan`s advances in the fight against corruption. Some 68 percent of the respondents approved of the measures taken by the government to fight against the corruption as effective. This is three times more than the world rate of 22 percent. More than half of the respondents believe the level of corruption in their countries has increased over the past two years. In Azerbaijan, 73 percent of the respondents said the level of corruption in their country has not increased.
/AzerTAg/