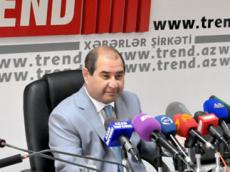 The policy carried out by Armenian President Serzh Sargsyan has brought Armenia to a dead end, the head of the Political Innovation and Technology Center, political analyst Mubariz Ahmedoglu told Trend on Wednesday.
Ahmedoglu said that local experts in Armenia are preparing to call the population's resettlement an "evacuation", not a "migration".
The rates of migration in this country's population are so high that this can only be called an evacuation, Ahmedoglu said.
According to him, the international financial institutions who granted loans to Armenia do not have a definite position on the rates of economic development in this country.
"It is clear that Armenia's annual growth rate is below 7.2 percent. The growth rate of Armenia's economy should not be below 7.2 percent, in order to serve to existing debts. This indicator is achievable in case if there remain friendly relationships between Russia and Armenia. But in case of increasing the cost of the gas sold to Armenia and if the Russian Federation takes various maneuvers in relation to the economic entities in Armenia, the rate of the economic development will drop to zero. In this case Sargsyan sees the only solution in searches for new cheap loans. This is one of the reasons of his aspirations for Europe. Sargsyan lost not only political, but also financial trust from Russia," Ahmedoglu believes.
According to Ahmedoglu, Sargsyan, who is currently engaged in anti-Russian policy, is sure that his policy will be supported by the West.
"A positive change in a short time in Armenian's rating by Fitch and Moody's international rating agencies show that Sargsyan's expectations were not ungrounded. But in view of the fact that the OSCE Minsk Group is not engaged in any activity, Sargsyan himself had to give the guarantee on the settlement of the Nagorno-Karabakh conflict," Ahmedoglu said.
Ahmedoglu went on to add that, Sargsyan, speaking before the Armenian youth, praised Azerbaijani President Ilham Aliyev, and expressed Armenia's support for updated Madrid Principles, which were prepared four years ago.
"Sargsyan ensured the donor organizations and financial structures, which promised to help him with money, that Armenia will settle the Karabakh conflict. They imply the immediate return of Azerbaijan's seven regions and liberation of these regions from Armenian occupation, as well as gradual return of Nagorno-Karabakh to Azerbaijan," the head of the centre said.
According to the analyst, Sargsyan saying good words about Ilham Aliyev, informed the international organizations and the West, about his intention to make friends with Azerbaijani President.
"But it should be kept in mind that Sargsyan is a deceiver. If there was a bluff competition among presidents, Sargsyan would undoubtedly have been the winner. He at least twice promised to settle the Nagorno-Karabakh conflict and did not fulfill promises. First time it was in 2008 when he came to power, and in 2009 when he was intending to get a loan for Armenia. Sargsyan's lies campaign carried out in the world against Ilham Aliyev should also be taken into account. Sargsyan did not respond to Baku's offer to provide cheap gas to Armenia and integration of this country into economic projects," the analyst said.
Ahmedoglu added that Sargsyan intends to once again deceive the international community.
"The above mentioned prove it. Accordingly, the EU and the U.S. should demand from Armenian President to sign the Great Peace Treaty, under which the country will return the occupied territories of Azerbaijan, including Nagorno-Karabakh. Otherwise, the taken decisions will lead to the opposite effect for both Armenia and for the West," Ahmedoglu said.



/Trend/