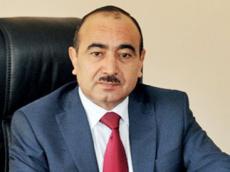 Azerbaijan is decisive in returning its occupied lands back and repatriating Azerbaijani refugees, Head of Azerbaijani Presidential Administration's Social and Political Department Ali Hasanov said in an interview with the Turkish Anadolu news agency.
"Azerbaijan will further demonstrate a decisive standpoint to liberate its lands and repatriate Azerbaijani refugees, who are forced to live in tents," Hasanov said, adding that if the situation doesn't change, other means will be put into action.
Today, Azerbaijan is strengthening its army and economy, Hasanov said.
He underscored the possible making of an international film that will reflect the Khojaly genocide and other facts of brutality and violence committed by Armenians.
"The film will also be the proof of Armenians' lies about the so-called "Armenian genocide," Hasanov underlined.
It is necessary to put pressure on Armenia to achieve a peaceful resolution of the Nagorno-Karabakh conflict, he underscored.
Hasanov also stressed Turkey's role in the promotion of the Nagorno-Karabakh conflict in the world arena, and expressed confidence that Turkey, as it promised, will not open its border with Armenia until the conflict is resolved.
He said over the past five years, Azerbaijan has invested $30 billion in projects in Turkey.
"Today relations between Azerbaijan and Turkey are more important than they were ten years ago. Today Azerbaijan is not behind Turkey, but standing by its side," Hasanov said.
He also touched upon the presidential elections in Armenia, noting that there were no proper elections in this country.
"Armenian president achieved victory not at the elections, but over his people," Hasanov said.
"As long as Sargsyan is in power, 100,000 Armenian citizens will be leaving the country every year. As a result, the population of Armenia will reduce to one million people within five years," he said.
The conflict between the two South Caucasus countries began in 1988 when Armenia made territorial claims against Azerbaijan. Armenian armed forces have occupied 20 per cent of Azerbaijan since 1992, including the Nagorno-Karabakh region and seven surrounding districts.
Azerbaijan and Armenia signed a ceasefire agreement in 1994.The co-chairs of the OSCE Minsk Group - Russia, France and the U.S. - are currently holding peace negotiations.
Armenia has not yet implemented four U.N. Security Council resolutions on the liberation of the Nagorno-Karabakh and the surrounding regions.


/Trend/