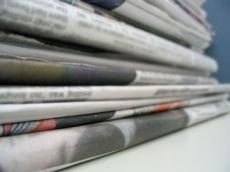 The exhibition and concert themed around "Cultural values of Azerbaijan as pearl of Caucasus" organized by the Heydar Aliyev Foundation and Azerbaijan`s embassy as part of Azerbaijanis Days in the French cities of Reims and Châlons-en-Champagne was widely covered by this country`s press.
The Champaigne-based L'Union daily has published an article "Azerbaijan`s lady ambassador in Reims" about Azerbaijani first lady Mehriban Aliyeva`s visit to the city of Reims and remarks made here at the event. The article says Mehriban Aliyeva`s speech, exhibition and concert provided information to local population about Azerbaijan. Reims residents were eager to get more information about Azerbaijan and its culture and art.
The exhibition was a good opportunity to present Azerbaijani rich culture. The other article in the newspaper "Reims welcomed Azerbaijanis" says Azerbaijan is one of the secular states although it is a Muslim country.
The other article underlines successful performance of Azerbaijani musicians in a concert
The article "Mehriban Aliyeva solemnly opens in Reims the exhibition and concert dedicated to Azerbaijan" of October 19 provides insight into Azerbaijan`s economic growth, ancient history, rich culture, moral values, large-scale projects implemented by the Mehriban Aliyeva-led Heydar Aliyev Foundation and its humanitarian assistance programs in foreign countries.
The newspaper`s article of October 26 pointed out that the event "Azerbaijan`s cultural values as pearl of Caucasus" held with participation of UNESCO goodwill ambassador Mehriban Aliyeva in Reims was a great success. Author wrote about Azerbaijan as the country which is home to world literature genius Mohammad Fuzuli, tolerant culture and the land, which gave the first fisrt democratic state in the Orient.
Author noted that mugham was included into the intangible heritage list of UNESCO in 2003.
Representative of the Azerbaijani embassy for economic issues Elmar Mammadov was quoted as saying that at the initiative of President Ilham Aliyev, a special attention is paid in Azerbaijan to implementation of the state program on development of regions and infrastructure development.
Ambassador Elchin Amirbeyov said in the article "Azerbaijan in Châlons-en-Champagne " that father of Alexander Dumas visited Azerbaijan, which is located between West and East and on the ancient Silk Road.
The region`s Vendredi paper underlined that exhibition and concert held in Chalons-en-Champagne was very successful. The embassy`s secretary Elmar Mammadov was quoted as saying that "Oil and gas-rich Azerbaijan has very good relations with France in this field."
The newspaper tells about Azerbaijan's mugham, its history.
/
AzerTAc
/