AzerTurkBank's aggregate capital has reached AZN 8.35m, including the authorized capital amounted to AZN 7m.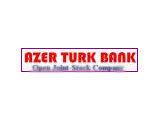 Bank's head office in Baku told APA that its assets grew by 26%, year-over-year,  to AZN 25.83%, credit portfolio grew by 64% to AZN 14.19, and deposit portfolio grew by 23% to AZN 17m, as of January 1, 2007.
Bank's incomes rose 44%, year-over-year, to AZN 3.9m, expenditures rose 41% to AZN 2.58m.
In 1995 AzerTurkBank was established by Turkish T.C.Ziraat Bankasi A.S. (46%), German Ziraat Bank International AG (4%), Azeri Agrarcredit (46%) and Turanbank (4%).