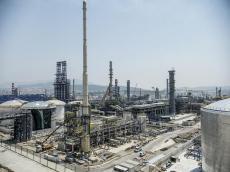 By Azernews
By Sara Israfilbayova
The first raw materials for the STAR refinery of the State Oil Company of Azerbaijan SOCAR, being built in the region of Aliaga of Izmir (Turkey), will be transported from Azerbaijan.
CEO of STAR Rafineri A.? Mesut Ilter said that the first oil cargo for STAR will be delivered from Azerbaijan by the end of June this year, the relevant agreement has already been signed.
The Director General noted that the installation of crude oil will be initially launched in the third week of July.
 "The plant will be commissioned in early October, and the total spent amount will be $ 6.3 billion," he said, adding to date, 99.1 percent of physical works have been completed.
STAR Refinery will meet more than 25 percent of the processed oil products need of Turkey upon its startup. Certified with the first investment incentive granted by Turkey, STAR Refinery will eventually reduce the foreign-dependency of the country.
STAR Refinery, foundation of which was laid in 2011, is currently under construction on a 2,400-hectare site on Aliaga Peninsula. With a crude oil processing capacity of 10 million tons, STAR Refinery is underway as the most critical component of SOCAR Turkey's integrated energy solutions and value chain.
STAR Refinery will be put into service with a total investment of $5.6 billion. The construction of the Refinery is undertaken by a multinational consortium, comprised of Técnicas Reunidas (Spain), Saipem (Italy), GS Engineering (South Korea) and ITOCHU (Japan).
The plant will annually produce 1.6 million tons of naphtha, 5 million tons of diesel fuel, 1.6 million tons of jet fuel, 300,000 tons of liquefied petroleum gas and 1 million tons of raw materials for petrochemical production.