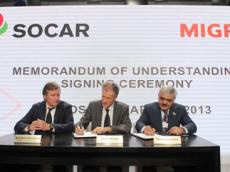 The State Oil Company of the Azerbaijan Republic (SOCAR) held an annual reception in Davos named "SOCAR – Energy of Azerbaijan" as part of the general program of the Azerbaijani delegation at the World Economic Forum. The President of SOCAR, Mr. Rovnag Abdullayev, addressed the guests with a welcome speech. Then the EU commissioner for energy, Mr. Günther Oettinger, took the floor and spoke about the first Nobels who arrived in Baku and contributed to the development of the oil sector in Azerbaijan.
Two Memorandums of Understanding were signed during the reception. The first document was signed by the State Oil Fund of Azerbaijan (SOFAZ) and International Financial Corporation (IFC) by the Executive Director of SOFAZ, Mr. Shahmar Movsumov, and CEO of IFC, Mr. Jin-Yong Cai.
The signatory parties agreed to deepen cooperation between the two organizations in the area of private sector investment and private investments in the world emerging markets.
SOFAZ has already invested 100m USD in the African, Latin American, and Caribbean Fund. The agreement has been reached to allocate an additional 50m USD for SOFAZ`s investment in the new global fund. This will be officially announced on Friday.
Currently, the negotiations on future investments are going on. SOFAZ has been one of the first investors in the world`s emerging markets. The second MoU was signed between the President of SOCAR, Mr. Rovnag Abdullayev, and the Chairman of Board of MIGROS, Mr. Herbert Bolliger.
The parties agreed to expand cooperation in Switzerland`s fuel sector and continue exploring new market opportunities for further investments.
"Azerbaijan - The Land of Future" documentary film was screened for thee guests.
A number of top-ranking officials, representatives of international organizations and business circles attended the event.
/AzerTAc/