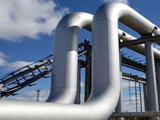 Republican Senator Richard Lugar urged the United States to remain a key diplomatic player in advancing the Southern Gas Corridor, Reuters reported on Wednesday.
In his letter to the Senate's Foreign Relations Committee Lugar said that the U.S. Congress should give European allies access to burgeoning supplies of U.S. natural gas. He proposed a new law that, according to him, would improve energy security in a critical region.
Lugar said that his bill would advance U.S. interests by helping allies in the North Atlantic Treaty Organization (NATO) reduce their dependence on gas imports from Russia, and also would help Turkey wean itself from Iranian supplies.
"My legislation would place NATO allies on equal footing with free trade partners under U.S. law in providing for automatic licenses for U.S. (liquefied natural gas) exports," Lugar said in a letter.
Lugar urged his colleagues to try to advance the bill, which would need to find approval from the Democrat-controlled Senate before it would have a chance of becoming law.
However Lugar said increased U.S. exports would augment but not replace the need for Southern gas Corridor pipeline system, which will transport gas from the Caspian region to European countries.
According to the Lugar's report, U.S. allies would gain more from the Nabucco West project, which is designed to transport Caspian gas to Estern Europe than a competing TransAdriatic Pipeline (TAP) proposal, which would take a more southern route to Italy.
The Southern Gas Corridor is a major energy project for the EU. It is intended to diversify routes and sources of supply. It is aimed at ensuring EU energy security. Gas which will be produced during the second stage of Azerbaijani Shah Deniz field development is considered as the main source for the Souther Gas Corridor projects.
Currently, the Shah Deniz consortium considers two options to deliver its gas to Europe - TAP and Nabucco West. The final decision on a pipeline route will be made in 2013.
/
Trend
/