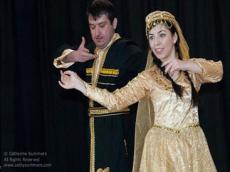 The Karabakh Foundation has organized "Cultural Holiday" for students, teachers and parents at the US, Longfellow Middle School, Virginia. The participants have got an opportunity to familiar with the Azerbaijani culture.
The Karabakh Foundation has received a grant from the AXA Foundation to implement the project. Aids about Azerbaijani culture and Azerbaijani national costumes have been demonstrated to the participants.
In the next stage of the project, the Karabakh Foundation will develop a new webpage for the Longfellow Middle School and open the Azerbaijani Culture Centre here. The Karabakh Foundation plans to promote Azerbaijani culture through the "Take Your Family to School" project in 50 US state schools.
The Karabakh Foundation is a US cultural charity foundation. The foundation aims to introduce Azerbaijan, Nagorno Karabakh and The Southern Caucasus to US. The Foundation is preparing proposals to include learning aids about Azerbaijani and Caucassian culture into the school syllabus.
/
AzerTAc
/