Azerbaijani boxers will take part in two international tournaments Apr.6-12, the Ministry of Youth and Sports said.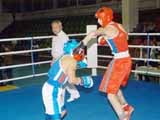 Five Azerbaijani boxers Ramal Amanov, Elvin Memishzade, Ilkin Agayev, Ismet Eynullayev and Ramil Aliyev will perform in the city of Khabarovsk (Russia) in an international tournament dedicated to the Soviet Union hero Korotkov's memory. Boxers will be accompanied by coach Nariman Abdullayev.  
During this period, from Apr.6 to 12, 11 Azerbaijani boxers Magomed Abdulrahmanov, Elshan Ismayilov, Geybatulla Hajialiyev, Imil Iksakov, Sadig Eynullayev, Emil Maharramov, Nijat Ibrahimov, Rahib Beylerov, Ramazan Magomedov, Rashad Abdullayev and Farid Pashayev will take part in the international tournament in Turkish capital - Ankara. The boxers will be accompanied by the Coach Jesús Y.
/
Trend
/