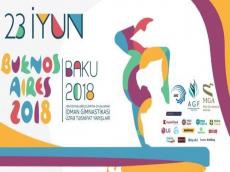 By  Azertac 
Europe's age-eligible junior gymnasts will aim to qualify for the third summer Youth Olympic Games at the qualification for Artistic Gymnastics to be held in Baku on June 23.
Only boys born in 2001 or 2002 and girls born in 2003 can compete. The best 17 in each category, but limited to 1 gymnast per country, advance to the Games which be held from 6 to 18 October in the Argentinian capital of Buenos Aires.
Azerbaijan's squad includes Samira Gahramanova, Aghmurad Gahramanov and Samad Mammadli.
58 male and 54 female gymnasts from 33 countries will compete at the tournament.