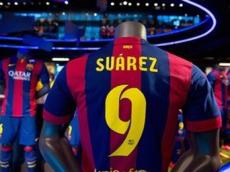 The CAS has made it clear that Luis Suárez's ban came into effect on 25th June, meaning that it will end on Friday, 24th October. The 'Clásico' against Barça will be played at the Bernabéu that weekend, meaning that it will not matter whether the television networks schedule it for Saturday 25th or Sunday 26th.
The final outcome of the appeal is that Luis Suárez will miss the first three games of the group stage of the Champions League and the first eight league fixtures. He will miss out on a total of 11 Barcelona matches.
In the meantime, the Uruguayan will only be able to play in unofficial games, such as the one on Monday against Mexican outfit León as part of the Joan Gamper Trophy.

/Marca/