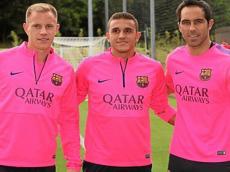 We have seen three keepers in as many games. Marc-André ter Stegen turned out against Nice, Claudio Bravo kept goal against Napoli and Jordi Masip took the helm against HJK Helsinki. We have not seen enough of them to form a final opinion.
Luis Enrique assured after Saturday's fixture that he has yet to make up his mind and that the final game of the pre-season, the Gamper Trophy, will not be decisive in this regard either.
"I have three great goalkeepers. I wish I always had that kind of dilemma. A coach has to make decisions, and I'll have to pick one of them knowing that the other two are very good as well", remarked the Spaniard. "It will be tough for them and tough for me too", he went on to say.
Masip was happy with his performance and confident of his chances. "My intention is to make things difficult and then the gaffer will decide. I had a very good game. I felt really solid. I was prepared, because in those games they can score against you due to the slightest error", remarked the home-grown player.
Masip does not feel that he is starting at a disadvantage compared to Ter Stegen or Bravo: "The way I see it is that you have to work hard and make things difficult for the gaffer, and that's what I'm going to do."
The Barça manager expressed himself along similar lines when asked about Gerard Deulofeu: "I like it when players earn their opportunities in training. They will be compensated with game time based on what they prove to me. Only 11 players can start and I invite them to give their utmost to play for Barcelona."

/Marca/