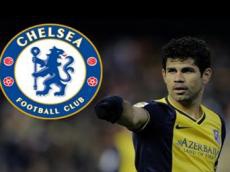 Chelsea has officially confirmed that they have reached an agreement with Atlético de Madrid regarding the signing of star striker Diego Costa and that they are prepared to pay the €38 million buyout clause in order to take him to London.
The striker – Atlético's top scorer last season with a 36-goal haul – has brought his career at the Madrid-based outfit to a close. He was signed from Sporting de Braga and played in the Spanish capital non-stop for the past two seasons, after spells on loan to Celta, Albacete, Valladolid and Rayo Vallecano between 2007 and 2012.
Chelsea were the first to break the news, followed minutes later by Atlético. "Both entities have reached an agreement whereby the London club is liable to meet the full amount of the buy-out clause," announced the Spanish side, adding that Costa "communicated his wish to be transferred to Chelsea FC at the end of last season".
"We wish the best of luck to the football player in this next step of his professional career," finished the statement.
The 25-year-old Spanish international was one of Mourinho's main targets, after he lambasted the poor goalscoring records of Torres, Demba Ba and Eto'o last season.
According to the British press, Mourinho has his eye on other key members of the Spanish championship-winning side, such as the midfielder Tiago Mendes – who previously played for Chelsea in 2004/05 – and the Brazilian fullback Filipe Luis.

/Marca/