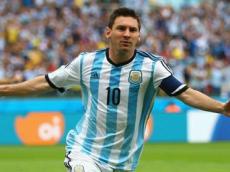 Lionel Messi is so good he must be from Jupiter, according to Nigeria coach Stephen Keshi.
The Argentina captain scored twice - the second a stunning free kick - as his side beat the Super Eagles 3-2 in their final Group F match in Porto Alegre on Wednesday.
It took Messi's tally for the World Cup to four goals so far – and Keshi was in awe of the forward's talent following his latest match-winning display.
"Messi is one hell of a player. There are other high calibre players, but Messi is from another planet, he's from Jupiter I think," Keshi said in his post-match press conference.
Iran's defeat to Bosnia-Herzegovina meant Nigeria still qualified for the last 16 of the World Cup by finishing second in the group.
Keshi was frustrated that his players showed too much respect for Argentina in the first half and urged them to reproduce their second-half display in their second-round fixture, which is all but certain to be against France.
"We respected Argentina too much," Keshi added. "We relaxed on the second half, tried to play our game and improved then. I hope we can continue like this on the rest of the tournament.
"We know France is a very good team, they play very well. We know about them and we'll have to prepare for that."

/Goal.Com/