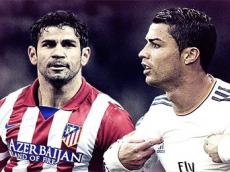 The Estádio Da Luz stadium in Lisbon is about to host the biggest derby in history, featuring Real Madrid and Atlético in an elite contest, the Champions League final. It will be an intense showdown - 'Los Blancos' striving for their long-awaited 'Decima' victory (tenth European Championship) and the 'Rojoblancos' full of enthusiasm and ambition for their first.
The individual efforts and offensive power of Real, this season's Copa del Rey champions, up against the team-mentality, intensity, defensive strength and spirit of Atlético, who last Saturday celebrated winning a domestic league championship title, 18 years in the coming.
The latest 'battle', arguably the most historic, between two 'eternal' rivals, a tactical duel between Ancelotti and Simeone, and the fourth time the two teams have faced each other this year - two victories going to Real, one to Atlético, and the last, in early March, ending in a 2-2 draw.
Injuries have come at the most inopportune moment for key Real Madrid players, such as Pepe, Cristiano Ronaldo and Benzema. Pepe looks to be the least likely to be fit for the final. His calf injury rules him out of a game that everyone wants to play, his position being filled by Varane.
Atlético are also heading into the match with some battle-worn players, waiting on fitness news for two of its best players: the fearsome Diego Costa, as decisive in attack as he is resolute in shaking off his markers, and the skilful Arda Turan, technical and artful.

/Marca/