Turkey's ambassador to Rome is under investigation over claims of sexual harassment, the Hürriyet Daily News & Economic Review has learned from official sources.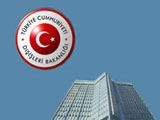 The Turkish Foreign Ministry is investigating accusations against Ambassador Ali Yakıtal for misconduct while he was in Rome, according to official sources. Yakıtal was appointed ambassador to Italy approximately three months ago.
The sources said Yakıtal might be called back if the allegations are found to be true.
Before his appointment to Rome, Yakıtal, a career diplomat, had worked in the Prime Ministry as Prime Minister Recep Tayyip Erdoğan's main advisor on foreign-policy issues and was known to be part of the premier's inner circle.
The Foreign Ministry regularly appoints one or two ambassadors as foreign-policy advisors to prime ministers.
/Hurriyyet Daily News/