Director of Iran's Atomic Energy Organization Ali Akbar Salehi says the Bushehr nuclear power plant will be operational within the next few months.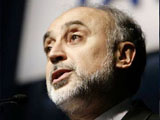 In an interview with Fars News Agency on Wednesday, Salehi said that the Bushehr nuclear plant would come online by late September.
He added that experts are conducting important and final tests and that there will be no delays on the part of the Russians in launching the plant.
"So far most of the tests at the Bushehr power plant have been successful. Currently the tests on the metal sphere are being conducted, which will not take more than a week or two," Salehi stated.
The Iranian nuclear official added that analytical testing procedures for the plants cooling system will be carried out in the coming months before nuclear fuel is introduced into the 1,000-megawatt Bushehr plant's cycle.
Iran expects to generate 17.5 percent — 20,000 megawatts — of the country's electricity demand through nuclear energy over the next two decades.
/Press TV/