Georgia says it will not be ready to resume flights between Moscow and Tbilisi for the festive season.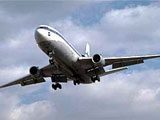 Earlier Russia temporarily reopened an air route from Moscow and St. Petersburg to Tbilisi.
Georgian Airways was granted permission from Russia's Transport Ministry to operate the route.
The Georgian air carrier was allowed to conduct charter flights only for two days, December 29 and 30.
Moscow insists Tbilisi is unwilling to resume a regular air connection between the two countries.
/Russia Today/