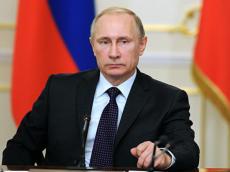 By  Trend
President of Russia Vladimir Putin will visit Uzbekistan, according to the details of the phone conversation between Putin and Uzbek President Shavkat Mirziyoyev, said the press service of the Uzbek president.
"During the phone conversation, the leaders of the two countries discussed topical issues of the agenda in the context of preparing the forthcoming state visit of the Russian president to Uzbekistan," the press service noted.
The sides underlined importance of practical implementation of previously signed agreements in trade, economic and investment spheres, including those achieved within the framework of the joint intergovernmental commission on economic cooperation.
The sides paid attention to the preparation of prospective projects with the participation of leading Russian companies and banks in the energy sphere, metallurgy, engineering, electrical engineering and other high-tech industries.
An agreement has been reached to continue intensive contacts at the regional level and to hold the first Regional Forum of Uzbekistan and Russia in Tashkent in Autumn 2018.
The presidents also noted necessity for further expansion of tourism and cultural exchange, as well as for implementation of mutually beneficial programs in the spheres of education and healthcare.
The heads of state also considered other topical issues of international politics and held an exchange of views on issues of regional security and stability.