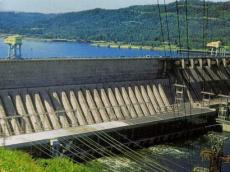 By Azernews
By Kamila Aliyeva
The European Bank for Reconstruction and Development (EBRD) and the the Green Climate Fund (GCF)  have provided Tajikistan with $88 million to complete the final stage of the rehabilitation of the Qairokkum hydro power plant (HPP) and support in the area of ??improving electricity supply.
The financing will fund the implementation of the second and final stage of rehabilitation and modernization of the 60-year-old HPP, which will provide electricity to half a million people, according to the EBRD.
As part of the modernization, innovative measures will be introduced to ensure resistance to climate change that will allow the hydro power station to cope with the expected impact of climate change on the hydrology of the country," the bank said.
Measures will include concrete dam works and the installation of hydraulic steel components, turbines and electromechanical equipment for the four hydropower units.
The complete rehabilitation of the HPP will increase its capacity from 126 MW to 174 MW.
Qairokkum is a hydro power plant in Tajikistan on the Syr-Darya River in the city of Guliston.
The station was commissioned in 1957. The power of the station is 126 MW, the average annual output is 600-1000 million kWh.
Qairokkum HPP was built for energy and irrigation purposes, but due to the shortage of electricity in winter, the station operates in winter and spring in the energy regime, and in summer and autumn - in the irrigation regime. As of 2008, Qairokkum HPP accounted for 7 percent of the electricity generated in Tajikistan.
Tajikistan is considered as one of the most climate sensitive countries in Central Asia, especially when it comes to climate change.
The country is a heavily mountainous region with a population of 8.7 million and a high vulnerability to climate-related issues such as droughts, flooding, landslides, and others.
Tajikistan is the richest country in terms of water resources as about 81 billion cubic meters of water pass through the major rivers annually. Glaciers are the main source of clean drinking water in the region and the most important resources for hydropower stations as well. Over the past 70 years, Tajikistan has lost over 30 percent of its glaciers. Moreover, the disappearance of the Aral Sea has added greater water stresses to this fragile ecosystem.
Mountainous Tajikistan experiences frequent power blackouts. Previously, Central Asia had a unified energy system. In winter, Tajikistan and Kyrgyzstan accumulated water in reservoirs and received electricity and energy resources (coal and natural gas) from Kazakhstan, Turkmenistan and Uzbekistan. In summer, Tajikistan and Kyrgyzstan sent water to Uzbekistan and Kazakhstan for irrigation farming.
However, after Turkmenistan and Uzbekistan left the unified energy system of Central Asia in 2003 and 2009, respectively, the system ceased to function.