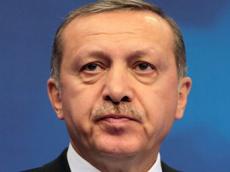 The third airport, being constructed in Istanbul, should be named in honor of Prime Minister Recep Tayyip Erdogan, Turkish channel Haber7 reported Aug. 14 with reference to Turkish Minister of Transport, Maritime and Communications Lutfi Elvan.
"Erdogan, who has done a lot for the benefit of people, will be the 12th president of Turkey," he added.
"Thanks to Erdogan, the country's economy has grown," he said. "Turkey has achieved significant progress. People are very grateful to him."
"Even if the third airport in Istanbul is named in honor of Erdogan, this will not be enough to express my gratitude," Elvan said.
Turkey held the presidential election on August 10. The election was won by Turkish Prime Minister Recep Tayyip Erdogan who gained 51.8 percent of the vote.
The groundbreaking ceremony for the third airport took place in Istanbul on June 7.
An agreement on construction of the third airport in Istanbul was signed in May 2013.
The Limak-Kolin-Cengiz-MaPa-Kalyon consortium won the tender for the airport construction, offering 22.1 billion Euros for the project.
Earlier, the Air Transport Department of the Turkish Ministry of Transport, Shipping and Communications told Trend that construction of the third airport in Istanbul would cost ten billion lira.
Istanbul's third airport was under construction near Lake Terkos in the north of the city.
The airport would be able to serve 90 million people a year initially. In future, this figure would increase to 150 million.
This airport is expected to be one of the biggest in the world.
The official exchange rate is 2.1588 TL/USD on Aug. 14.