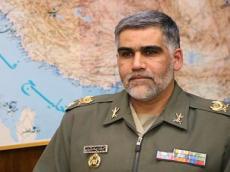 Commander of the Iranian Army's Ground Forces Brigadier General Ahmadreza Pourdastan said that no threat can harm the country.
The Iranian commander further highlighted the full preparedness of Iran's Armed Forces, warning that the Islamic Republic will give a crushing response to any military aggression, Iran's IRNA News Agency reported on June 18.
"Iranian army is ready to face any threat," Pourdastan said, adding that in case of any threat, Iran will make the attacker regret it. He went on to note that one of the duties of the army is detecting possible threats.
In recent years, Iran has secured great accomplishments in its defense sector and attained self-sufficiency in producing essential military equipment and systems, Press TV reported.
The Islamic Republic has repeatedly said its military might poses no threat to other countries, reiterating that its defense doctrine is based on deterrence.

/Trend/