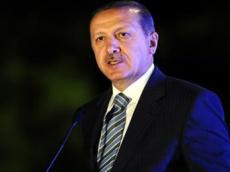 Turkey's Prime Minister Recep Tayyip Erdogan crticized media coverage over the abduction of Turkish consulate staff in Iraq, at a speech in Black Sea city Trabzon on Sunday, Anadolu Agency reported.
"I ask the print and visual media, for God's sake, what do you want to achieve by your provocations while we are trying to safely liberate our one hundred citizens captured by the ISIL elements?" Erdogan said. "I want to request you to watchout this situation without publishing any provocative materials because these provocations are creating negative rather than a positive effect on the other side (ISIL)."
Militant group Islamic State of Iraq and the Levant seized northern Iraqi city Mosul in a shocking operation on Tuesday, which they followed up by advancing on other Iraqi cities and attempting to move towards the capital Baghdad.
They attacked the Turkish consulate on Wednesday, abducting 49 staff members who Turkey was unable to evacuate because local police and soldiers guarding the consulate were removed from duty by the local administration.

/Trend/