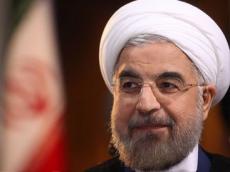 Iran supports free election, security and stability in Syria, Iranian president Hassan Rouhani said, the country's IRNA news agency reported on Feb. 19.
Rouhani made the remarks during a meeting with the Syrian parliament speaker Mohammad Jihad al-Laham in Tehran on Feb. 19.
"Free and fair election in Syria can eliminate many ambiguities," he added.
The Iranian president expressed hope that Syria will take steps towards establishment of security and democracy.
Rouhani also supported Syrian government's position in the Geneva 2 peace conference.
Geneva 2 peace talks ended without any result on February 15. The conference was a proposed UN backed international conference which started on Jan. 22 with the aim of ending the Syrian civil war.
Iran is a close ally of the Syrian government and has always shown its support for the regime of Syrian President Bashar al Assad.
Syrian opposition claim that Iranian military forces are fighting against them, while Iran dismisses the claims, saying that Iran only has advisors in Syria, to transfer its military experience to the Syrian army.
During the conflict in Syria which began in March 2011, more than 115,000 people were killed in the country and over 4.2 million became refugees in Syrian territory and two million fled to neighboring countries. The main burden of receiving refugees fell on Iraq, Jordan, Lebanon and Turkey. The total population of Syria before the conflict amounted to 20 million.

/Trend/