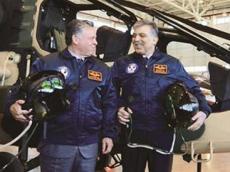 Turkey showcased its first attack helicopter, the ATAK, during Jordanian King Abdullah's visit to the Turkish Aerospace Industries (TAI) as part of efforts to boost defense exports to Middle Eastern countries.
Jordanian King Abdullah II, accompanied by Turkish President Abdullah Gül, visited the TAI facilities in Ankara and watched the show flight of the ATAK helicopter. During the visit, President Gül provided information to King Abdullah and his company about the characteristics of Turkey's first T-129 attack helicopter, co-produced by Italy's AgustaWestland and TAI.
During their visit the two leaders were accompanied by high-ranking officials, including Turkish Defense Ministry Undersecretary Murad Bayar, Board Chairman of Turkish Aerospace Industries Yalç?n Kaya and Director General of the defense company Muharrem Dörtka?l?.
Jordanian King, Turkish President examine military attack helicopters
Beside the attack and tactical reconnaissance helicopter ATAK, Turkey's unmanned aerial vehicle systems ANKA and Turkish primary and basic training aircraft HÜRKU? were also displayed to the Jordanian leader.
With the nationally developed fresh arms systems, Turkey has been passionately seeking to increase its arms and defense industry systems abroad, especially in Middle Eastern countries who have so far responded with a high interest.


/HurriyetDailynews/