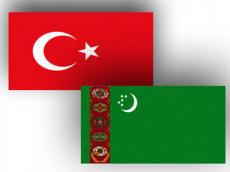 Turkmen President Gurbanguly Berdimuhamedov received the chairman of the Turkish Union of Chambers and Commodity Exchanges Rifat Hisarc?kl?oglu.
Hisarc?kl?oglu focused on the exceptional potential of the Turkmen market, the national TV channel Altin Asir said today.
"This is stipulated by an impressive multi-faceted potential of the market, as well as a favourable investment climate and the best conditions for fruitful cooperation," the Turkish representative said.
Hisarc?kl?oglu also stressed that Turkish business circles' high interest was in expanding mutually beneficial cooperation with Turkmenistan and the ever-increasing prestige of the country in the world arena, including international business circles.
"Turkmenistan also attaches great importance to strengthening the fruitful relations with Turkey," the Turkmen leader said.
He stressed that such a partnership has been based on long traditions of friendship and historical and cultural links between the two people.
The sides exchanged views on prospects for further cooperation in trade and economic areas and diversification of business contacts given modern realities, as well as by implementing new joint projects in various areas of partnership.
The importance was stressed of the intergovernmental Turkmen-Turkish commission for economic cooperation and Turkmen-Turkish Business Council, as well as holding joint trade fairs and business forums.
There is a positive dynamic of mutual trade turnover between Turkmenistan and Turkey in 2011 compared to 2010. It increased by 25 per cent. Turkmenistan mainly exports textile products, goods of fuel energy, chemical and agricultural industries.
Metal and its products, household goods, hardware, building materials, goods of electrical, chemical and light industries, food, vehicles, medicaments, etc. are obtained from Turkey.
Turkish companies master more than 1,270 investment projects. More than 1,200 projects are worth over $15 billion, 26 projects worth over 2 billion euro and 26 projects worth over 56 billion manat and other projects.
Ankara expresses interest in the delivery of Caspian energy resources to Europe through the Caspian Sea and Turkey. Ashgabat also wants to involve Turkish companies to construct Avaza resort in the Caspian Sea.
/
Trend
/