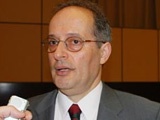 I urge the Azerbaijani authorities to review plans on closing foreign radio stations and issue them a license for broadcasting", says a report of the OSCE special representative on freedom of speech Miklos Kharashti, related to the freedom of speech in the OSCE states, Day.Az reports with reference to Azadlyg radio.
Kharashti said in his report that he appealed to Foreign minister of Azerbaijan Elmar Mamedyarov regarding the plans to close foreign radio stations in Azerbaijan.
"Chairman of the National Television and Radio Broadcasting council Nushirevan Meherremli noted that radio stations "Voice of America", "Liberty", BBC. He explains his plans with an intention to meet international standards.
Yet, in the OSCE area the only standard in this sphere is a commitment to ensure effective and pluralistic media. These radio stations are important sources of information for Azerbaijani public", says Kharashti's report.
/Day.Az/