According to the information available for the moment, about 3,000 observers, 1500 of which international, will monitor the November parliamentary elections, head of the socio-political department of the President's executive office, Ali Hassanov told on 12 July during his talk with journalists, Trend reports.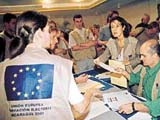 According to him, the number of local and the CIS countries observers will make 1500 persons. «The parliamentary elections will be, approximately, held at 5,000 polling stations. The authorities of Azerbaijan voiced their interest in involvement of foreign observers at each of them. The previous elections' experience shows that opposition representatives initiate intentionally provocations at the polling stations, attended by international observers and they record these facts.
Therefore, we will require them to follow the elections from the beginning up to the end. After completion of voting and receiving the protocols' copy from the polling station's commission, they may leave the place", Hassanov underlined.