The president Ilham Aliyev received the chairman of the Monitoring Committee of the Parliamentary Assembly of the Council of Europe (PACE) George Frunda yesterday.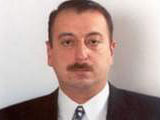 This was informed to APA from the press-service of the President's Office. I.Aliyev stressed significance of holding the sitting of the Monitoring Committee in Azerbaijan and informed that the sitting created good possibility for the European deputies to be more acquainted with the processes going in our country.
The president said that important steps were taken in the direction of more democratizing the society of Azerbaijan and informed that Armenia occupied 20 % of our lands and the rights of more than 1 million of our compatriots who became refugees and internally displaced persons in the result of this occupation were violated in the mass form.
The head of the state valued highly recognition of the fact of Armenia's encroaching on Azerbaijan in the documents adopted by PACE and stressed importance of other international organizations' increasing their efforts for eliminating this encroachment and its results.
G.Frunda, in his turn, informed that the sitting of the Monitoring Committee in Azerbaijan was productive and noted that the participants of the measure met with the representatives of the political parties, non-governmental organizations and press. Discussions on different fields of Azerbaijan-PACE collaboration were also held in the meeting.