"Political relations between Saudi Arabia and Azerbaijan are in very high level. This visit repeatedly proved it". As Agency Trend informs, Azerbaijan president Ilham Aliyev stated this on completion of his three-day visit to Saudi Arabia (SA).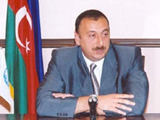 "We continuously support each other, cooperate closely in bilateral format, within frames of regional interaction",- said the head of state.
 I.Aliyev said, SA frankly stated its position concerning Armenian-Azerbaijan, Nagorn-Karabakh conflict and hitherto has not established diplomatic relations with Armenia. "This fact only is already an evident example- example of friendship, brotherhood, good relations. I am very glad, such wonderful relations are established between us", - he stressed.