Citizens of Russia and Azerbaijan will trip betweens the two countries only with foreign passports.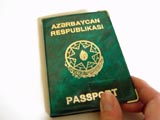 A Russian Foreign Ministry official told Itar-Tass on Saturday that a protocol to a Russian-Azerbaijani agreement on mutual visa-free trips of citizens of 1997 came in force on Saturday.
The documents mentioned in the protocol are diplomatic and service passports, a foreign travel passport and a passport of a seaman.