Talks for setting three Azerbaijanis captured on February, 16 by Armenians free are on.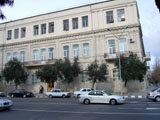 The information was given to APA from the Ministry of Defense. From press service of the Ministry it was stated that, measures in this direction are held. Even if Armenians agreed to give the soldiers back, they prolong the exact date determination. That's why the date when our soldiers will be given back is unknown.
From Azerbaijan representative office of International Committee of Red Cross it was stated to APA that, talks for setting the hostages free are on. They are expected to be given back to Azerbaijan during this week.
It must be mentioned that, Hikmet Taghiyev, Ruslan Bashirov and Khayal Abdullayev serving in "N" military division were lost and captured by Armenians. The event happened in Hasangaya village of the region.