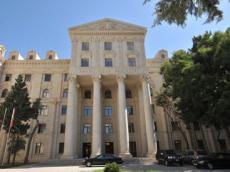 Azerbaijani Foreign Ministry considers the statement of spokeswoman Polish Foreign Ministry as interference in the internal affairs of the country, the press -service of the Azernaijani Foreign Ministry said.
"Azerbaijani Foreign Ministry does not recognize the Polish Foreign Ministry's statement. The said statement is more like a statement of a non-governmental organization. From now on the Polish side should be maximally careful and responsible in their statements on Azerbaijan. We consider that this statement reflects the position of only the Foreign Ministry of the country and is regarded as interference in the internal affairs of Azerbaijan, " the report said.
The spokesman of the Polish Foreign Ministry criticized the situation human rights in Azerbaijan on Aug.10.
"No one in Azerbaijan, including civil society activists are prosecuted and arrested for their political views and their activities. The allegations of the Polish side that supposedly unfounded accusations put forward against human rights defenders in Azerbaijan are baseless. Azerbaijan where the rule of law is ensured, political activity does not exempt liability from the persons before the law. The persons whose names are specified in the statement of the Polish Foreign Ministry are charged with specific criminal acts, and judicial proceedings of their cases will be conducted in accordance with the laws of Azerbaijan, " the Azerbaijani Foreign Ministry said.
The statement noted that the judicial system of Azerbaijan is completely independent, and any interference on the others regarded as political pressure.
The lack of response on the part of Poland to Armenia's occupation of Azerbaijani lands, the presence of more than one million refugees and internally displaced persons, massive violation of their rights, the murder of Azerbaijani soldiers as a result of the escalation of the Armenian Armed Forces, the situations on the frontline is proof of its double standards policy, the report said.
It seems that, in accordance with the instructions of a third party, the Polish side demonstrates a biased position, the Azerbaijani ministry said.
The Azerbaijani Foreign Ministry calls on the Polish Ministry of Foreign Affairs to abandon improper interference in the internal affairs of Azerbaijan.
Such statements are not consistent with the spirit of the Azerbaijani-Polish relations and harm to their development, Azerbaijani Foreign Ministry`s statement said.