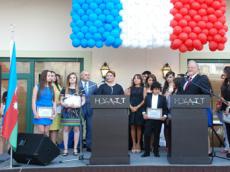 The Embassy of France in Baku has organized an official reception to mark the Bastille Day.
The event brought together state and government officials of Azerbaijan, representatives of the diplomatic corps in Baku, as well as public figures.
Ambassador Pascal Meunier highlighted the history of development of his country, adding great progress in economic and cultural fields has been achieved.
He hailed rapidly developing relations between France and Azerbaijan. The diplomat expressed confidence that political and economic relations, as well as cooperation in the fields of science, education and culture would continue to expand.
Touching upon trade relations between the countries, the ambassador stressed the importance of boosting cooperation in the relevant sphere. The diplomat said reciprocal visits, meetings and talks created favorable foundation for developing bilateral relations.
Chairperson of the State Committee for Family, Women and Children Affairs Hijran Huseynova conveyed greetings of President of Azerbaijan Ilham Aliyev to the ambassador. The head of state wished peace and prosperity to the people of France. Mrs. Huseynova said the two countries enjoyed relations with deep historical roots.
The Committee chairperson spoke of the history of establishment of Azerbaijani-French relations.
She said France was one of the important partners of Azerbaijan.
The chairperson praised development of the bilateral cooperation on all fronts.
"Reciprocal visits of heads of state of both countries contributed to further development of relations."
Mrs. Huseynova touched upon the great services of first lady of Azerbaijan, president of the Heydar Aliyev Foundation Mehriban Aliyeva in development of Azerbaijani-French ties. She said the repair of the churches and cultural monuments, as well as opening the Azerbaijani Culture Centre in Paris, holding the Days of Azerbaijani Culture under the support of the Heydar Aliyev Foundation were vivid evidence of this.
The Chairperson praised successful cooperation in the field of education.
/AzerTAc/