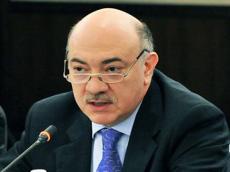 Modern age challenges demand a more responsive approach to destructive processes, particularly, separatism and religious extremism, and more determination to secure public and political stability and to protect statehood, Fuad Alasgarov, Chief of the Department on work with law-enforcement bodies of Azerbaijani presidential administration said.
Alasgarov made the remarks on July 2 at the Police Academy of Azerbaijani Interior Ministry, addressing an event dedicated to the Day of Azerbaijani Police.
He congratulated the policemen on behalf of the Azerbaijani President Ilham Aliyev.
Alasgarov then said that after Azerbaijan gained its independence, the country's internal affairs bodies took resolute measures in the fight against crime, to protect public order, and said they adequately coped with a difficult and honorable task.
He also praised the work of the Azerbaijani police, which always protect public order and stability.
"Development can not be even talked about when the stability is violated. Stability is the main precondition for development," Alasgarov said.
He went on to add that amid the dangerous processes going on in the world, Azerbaijan is being considered one of the most stable countries, where people's safety is ensured at a high level.
"Certainly, the role of internal affairs bodies in ensuring stability is undeniable," Alasgarov stressed.
He also noted that over the past decade a special attention has been paid to the social protection of policemen.
"To this end, the head of state signed nine orders, and the attention and care will be further provided," Alasgarov stressed.
He said the tasks and requirements set by President Ilham Aliyev, are being adequately fulfilled by the internal affairs bodies, and the fight against crime in the country is carried out with great professionalism.
Alasgarov congratulated the policemen on their professional holiday and wished them success in their future work.

/Trend/