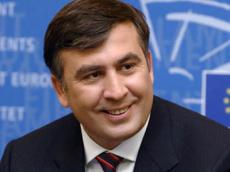 Azerbaijan and Central Asia are not only the energy sources for Europe, but the main elements of its geopolitical strategy, Georgian ex-President Mikheil Saakashvili told media on April 29.
He is taking part in the second Global Shared Societies Forum in Baku.
"Azerbaijan is of particular importance for Europe during the crisis in Ukraine," he said.
The ex-president said that Europe was in a difficult situation in the field of energy supply.
"The U.S. will be able to ensure sufficient volumes of energy resources, but this is not enough," Saakashvili added.
"Currently, Europe's attention focuses on the Caspian region," he said.
The ex-president condemned Russia's territorial claims.
"These actions are unacceptable in the 21st century," he said. "More people realize that this is not a single instance."
"Few countries support Russia due to its actions," he said.

/Trend/