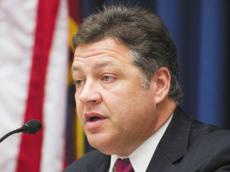 By AzerNews
The U.S. congressman condemned the Khojaly genocide committed by the Armenian armed forces in early 1990s.
U.S. Congressman and Co-chairman of the House Azerbaijan Caucus Bill Shuster made a statement in the U.S. Congress with regards to the 22nd anniversary of the Khojaly tragedy, the Azerbaijani Embassy in the U.S. told Trend Agency.
Shuster remembered the victims of the Khojaly tragedy, and emphasized that the massacre was widely documented by international media.
In his statement, Shuster also emphasized that Azerbaijan is a key strategic partner to the United States.
Armenian armed forces, supported by the ex-Soviet 366th regiment, occupied and ruined the town of Khojali by heavy artillery shelling on February 26, 1992.
As many as 613 civilians, mostly women and children, were killed in the massacre, and a total of 1,000 people were disabled. Eight families were exterminated, 25 children lost both parents, and 130 children lost one parent.
Moreover, 1,275 innocent people were taken hostage, and the fate of 150 of them remains unknown.
Civilians were shot at close range, scalped, and burned alive. Some had their eyes gouged out and others were beheaded.
The legislative bodies of many countries have adopted resolutions recognizing the crime committed by the Armenians against the peaceful people of Khojali as genocide.
The parliaments of Pakistan, Mexico, Colombia, Romania, Serbia, Bosnia and Herzegovina, Czech Republic, Jordan, as well as the legislative bodies of about 20 states of the Unites States including Texas, New-Mexico, Arkansas, Oklahoma, Pennsylvania, Connecticut, Western Virginia, New-Jersey, and Tennessee have adopted relevant documents.
The Organization of Islamic Cooperation (OIC) adopted a final Cairo Communiqué in February 2013 at the summit held in Egypt's capital, calling the Khojaly tragedy as genocide against humanity.
The Communiqué also calls on the international community to recognize the genocide.