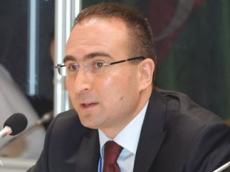 "Azarbaijani lands and Nagorno-Karabakh which were occupied by Armenia in 1992-1993 remain as one of the major issues of the South Caucasia to be solved nearly for twenty years", Chairman of the Eurasia Economic Relations Association Hikmet Eren told media in Baku on Feb. 24.
He also drew attention to Armenia's territorial demands from Azerbaijan, Georgia and Turkey with the beginning of the Soviet Union's disintegration process, towards the end of the 1980s.
"Following the collapse of the USSR, Armenians openly expressed their demands for the mountainous part of Karabakh," he said. "In1988, they performed a decision taken by a unilateral referendum for independence, and immediately after that Turks in the Nagorno-Karabakh region had been forced to migrate and afterwards the Soviet-backed Armenian occupation had began." As a result, Nagorno-Karabakh and seven surrounding regions were occupied. A ceasefire agreement was signed between the parties in Bishkek on May 5, 1994."
"The most important reason for not achieving any progress on reconciliation is the uncompromising attitude of Yerevan's government," he said.
Evaluating the international organizations attitude on settlement process of the parties, Hikmet Eren called it ineffective.
"Both the United Nations Security Council's failure to implement the decisions that have been taken on the issue and the failure of the Minsk Group (OSCE) which was authorized by the UN Security Council to solve the issue in a peaceful way and co-chaired by Russia, USA and France is remarkable," he added. "Parties have met 14 times between 2008 and 2012 on the level of heads of state, although no progress has been made in the talks."
Eren believes that in order to achieve a permanent solution, Armenia's expansionist efforts needs to be prevented and Azerbaijan's territorial integrity must be provided without any pre-condition.
The conflict between the two South Caucasus countries began in 1988 when Armenia made territorial claims against Azerbaijan. Armenian armed forces have occupied 20 percent of Azerbaijan since 1992, including the Nagorno-Karabakh region and seven surrounding districts.
Azerbaijan and Armenia signed a ceasefire agreement in 1994. The co-chairs of the OSCE Minsk Group, Russia, France and the U.S. are currently holding peace negotiations.
Armenia has not yet implemented the U.N. Security Council's four resolutions on the liberation of the Nagorno-Karabakh and the surrounding regions.

/Trend/