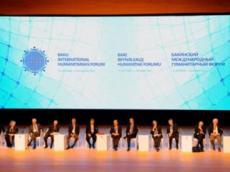 Austrian magazine "Circle Diplomatique" has published an article titled "3rd Baku Humanitarian International Forum".
The article reads: "The Baku International Humanitarian Forum represents an authoritative platform for the discussion of the most important issues of humanitarian cooperation. The official opening ceremony took place at the Heydar Aliyev Centre (designed by Zaha Hadid) and included welcoming speeches by President of the Republic of Azerbaijan, H.E. Mr. Ilham Aliyev as well as an address to the forum participants by the President of the Russian Federation H.E. Mr. Vladimir Putin. Both presidents acted as co-chairs of the forum. A video address was given by the Director General of UNESCO, Mrs. Irina Bokova and a speech by the Director General of ISESCO, H.E. Mr. Abdulaziz Othman Altwaijri.
Plenary sessions that followed, included speeches by former presidents of Turkey, Estonia, Croatia, Bulgaria, Romania, Latvia, Serbia and the Secretary General of the Cooperation Council of Turkic Speaking States as well as speeches by a large number of former Nobel laureates.
On the second day eight "round tables" were organized on topics such as "The convergence of technologies and the shape of the future: the key challenges of the 21st century", "Humanitarian aspects of economic development", "Scientific innovation and its transfer into education", "Multiculturalism and identity: in search for a value-based harmony in society", "National identity in the postmodern epoch", "Sustainable development and ecological civilization", Advances in molecular biology and biotechnology: from theory to practice", "The topical issues of mass media in the globalizing information network". After very interesting and successful three days, the forum drew to a close with evening banquets for the participants of each round table. Congratulations and many thanks to the Organizing Committee for these interesting and beautiful days in Baku."
/AzerTAc/