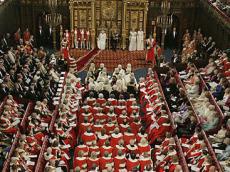 By AzerNews
Great Britain believes in the peaceful settlement of the Nagorno-Karabakh conflict, a British MP told journalists in Baku November 4.
The Nagorno-Karabakh conflict causes instability in the region, member of the House of Lords of the British Parliament and Chairman of Global Counsel Peter Mandelson said.
"Eliminating this instability through a peaceful settlement of the conflict between the parties is of great importance," Mandelson said.
"This mission was entrusted to the OSCE Minsk Group and we hope its efforts in this direction will be successful," he added.
Armenia captured Nagorno-Karabakh and seven surrounding districts from Azerbaijan in a war that followed the Soviet breakup in 1991. More than 20,000 Azerbaijanis were killed and nearly 1 million were displaced by the war.
Large-scale hostilities ended with a Russia-brokered ceasefire in 1994, but Armenia has continued its occupation in defiance of four UN Security Council resolutions that call for an immediate and unconditional withdrawal.
Peace talks mediated by Russia, France, and the US have produced no results so far.