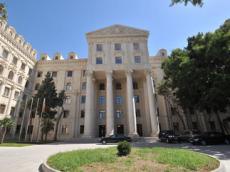 The fact that Orkhan Zeynalov is being called a criminal without a trial, as well as his maltreatment, are a violation of the presumption of innocence, Azerbaijani Foreign Ministry's official representative, Elman Abdullayev told journalists on Thursday.
This issue should be legally solved, Abdullayev said .
He said that, there is a consular convention between Azerbaijan and Russia, and all questions should be regulated on the basis of this document.
Azerbaijan's Embassy in Russia will provide all the necessary consular assistance to Zeynalov who was detained, and Azerbaijani Foreign Ministry has already given an appropriate instruction to the diplomatic mission in Moscow, Abdullayev said.
On Wednesday, Azerbaijani side sent a note to the Russian Foreign Ministry with the request of the provision of consular assistance to Azerbaijan's citizen Orkhan Zeynalov, who is suspected of murder in Moscow's Biryulevo district, Azerbaijani Embassy in Moscow told RIA Novosti on Thursday.
Last week, a 25-year-old citizen of Moscow, Yegor Shcherbakov was killed in Biryulevo district, which stirred up the public, and eventually led to riots in the district.
On Tuesday, the police detained Zeynalov in Moscow area on suspicion of the murder and brought him to the capital.
/Trend/