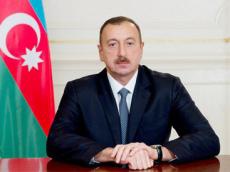 Some 79.9% of respondents of a public survey conducted in Azerbaijan by French Research Institute "OpinionWay" have said they would cast their ballot for incumbent President Ilham Aliyev in the presidential election slated for October 9.
The percentage for other candidates is as follows:
Jamil Hasanli – 7.8%, Gudrat Hasanguliyev – 1.5%, Igbal Aghazade – 0.6%, Zahid Oruj – 0.3%, Ilyas Ismayilov – 0.2%, Araz Alizade – 0.2%, Sardar Mammadov – 0.2%, Hafiz Hajiyev – 0.1%, Faraj Guliyev – 0%.
Some 56.2% of the respondents stressed improvement of the country`s economic situation, while 26.7% said it remained unchanged, 12.5% noted it deteriorated, and 4.6% failed to give their opinions.
In response to a question regarding the worst problem faced by Azerbaijan, 72.7% of the respondents said the Armenia-Azerbaijan conflict over Nagorno-Karabakh, while 19.8% referred to economic sector, 16.3% said education, 8% said environment and 3% said national security.
The survey included 1000 people aged above 18.
/AzerTAg/