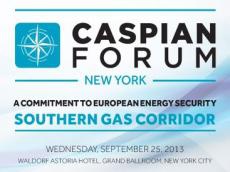 By AzernNews
New York hosted the Caspian Forum 2013, organized by the Caspian Strategy Institute (HASEN) on September 25, with the Southern Gas Corridor that includes the Trans-Anatolian (TANAP) and Trans-Adriatic (TAP) gas pipeline projects being high on the agenda.
Speaking at the opening of the forum, Azerbaijani Foreign Minister Elmar Mammadyarov said that the Southern Gas Corridor project will bring stability, security and predictability to the region.
According to Mammadyarov, the project will strengthen the sovereignty and independence as well as drastically change the life of the country.
"This pipeline has strategic importance and a strong impact on the whole region," Mammadyarov said.
According to him, the gas pipeline will provide not only gas transportation but also real independence of the country.
"We are grateful to the United States for this project. Then Secretary of State Clinton helped us a lot," the foreign minister said.
According to Mammadyarov, the project worth $50 billion has huge strategic importance "as it is the whole market of Azerbaijan and even more".
"We are moving in the right direction. I hope the next five years will be successful for us," the minister added.
Georgian Foreign Minister Maia Panjikidze said at the event that Georgia is a successful partner and plays an important role in the transportation of energy resources.
"Georgia is ready to participate further in the projects by facilitating supply of energy resources to the European market," Panjikidze said.
According to her, this route is essential for the EU.
"I hope our neighbors, Turkmenistan and Kazakhstan, will join the project. Liquefied gas is also important for them. The European gas consumer countries have several options for its transportation," she said.
According to Panjikidze, the level of energy diversification is very important as well.
Turkish Foreign Minister Ahmet Davutoglu said that the Southern Gas Corridor project will unite countries and become a reliable ground for energy and political cooperation.
According to him, the energy corridors are the carriers of political stability.
"The Southern Gas Corridor, which links several countries, means peace and order in those countries," he said.
The minister said further that Turkey considers the energy security as a necessary condition. He emphasized that Turkey's economy is growing and the country's GDP has quadrupled.
"The pipeline connecting the Caucasus region with the Balkans and the Mediterranean Sea will provide cooperation between countries. In particular, the cooperation with Georgia will make this project effective," he said.
According to Davutoglu, the energy security of Europe is "the best alternative of the current reality". He added that the project will affect the world energy market.
The Caspian Forum is a platform that explores the economic, political and strategic potential of the Caspian region. It is a unique setting to promote a shared vision on the issues of security, economy and energy of the broader Caspian region.
The Caspian Forum 2013 brought together representatives from a number of international organizations, financial institutions, think-tanks and universities.