Azerbaijani song entry for Eurovision 2010 announced today.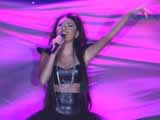 "Safura Alizadeh will represent Azerbaijan in 55th Eurovision Song Contest in Oslo with "Drip Drop" written by Stefan Örn and Sandra Bjurman", Head of Azerbaijani delegation in Eurovision, Adil Kerimli told Azerbaijani public broadcaster Ictimai.
He said the entry has been chosen between 3 entries, including Soulless, Drip and Drop and Don't let the Morning Come, written by European songwriters.
"The entry will be officially presented at the meeting of heads of delegations to be held in Oslo on 21-22 March", said Kerimli.
/en.itv.az/