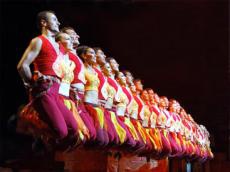 Prominent Turkish dance group Anadolu Atesi (The Fire of Anatolia) will give a concert at the Heydar Aliyev Palace in Baku on June 6-8.
Consisting of 120 dancers, several choreographers and other technical staff, the group has performed in more than 85 countries from the USA to China and Japan, in front of an audience of approximately 20 million people altogether. The Fire of Anatolia holds two Guinness records, one for fastest dance performance with 241 steps per minute and another for largest audience, 400,000 people in Eregli, in the Black Sea Region of the country.
The basic concept of The Fire of Anatolia is the meeting of civilizations. It is a dance portrait aiming to bring eastern and western cultures together while giving universal messages of peace. It presents a show, a cultural feast at modern standards by integrating folkloric dances with ballet, modern dance and other disciplines of dance.

/AzerTAc/