Financial aid to Azerbaijan has been raised by $1,000,000 in the draft US state budget for 2009 as compared to 2008.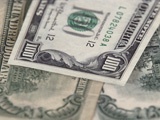 Day.Az reports with reference to Azadlyg radio that the draft state budget has been sent by US President George Bush to the Congress.
As is reported it is planned to allocate $19,500,000 for Azerbaijan in 2009 as compared to $18,500,000 in 2008.
It should be noted that aid to Armenia will reduce by two times from $58,000,000 of 2008 down to $24,000,000 in 2009.
Aid to Georgia will remain changeless $52,000,000.
In line with the draft State budget, Azerbaijan and Armenia will each receive $3,000,000 of military aid. Azerbaijan will receive $900,000 for technical equipment and training of armed forces and Armenia's aid will be thrice as lower as Azerbaijan's.
The highest military aid among the South Caucasus states will be delivered to Georgia $11,000,000.
On the whole, in line with the draft, the volume of the US state budget will hit a record-$3.1 trillion.
/Day.Az/